Frequently Asked Questions
In need of some assistance? Browse our answers to the most commonly asked questions about purchasing a gift, delivery, packaging options, how you can redeem your experience and much more. If you're still stuck, don't hesitate to contact our
customer services team
.
Buying an experience
Do I need to choose a date or location before I buy my voucher?
No, the recipient can choose a date to take part in their experience themselves and make their booking before their expiry date.
Our vouchers are valid at all the locations that are shown in the 'view on Map' tab on the product page. New locations are often added so make sure you check redeem.redletterdays.co.uk when booking to see the full range of venues that you can choose from.
Are there restrictions (e.g. age, weight or height) I need to consider before buying?
Certain experiences or gifts are subject to suppliers' minimum or maximum safety requirements. Full restrictions such as age, health, height or weight are included with all product information and again when a booking request is submitted. Be aware that once a booking is confirmed, it may not be possible to cancel if the necessary requirements cannot be met.
How is any personal data obtained from me used by Red Letter Days?
Please click here for full details about how personal data is used.
What Payment methods do you accept?
You can pay on our secure website using any of the following payment methods;

Please note PayPal cannot be used for telephone orders.
---
Delivery, packaging and payment
What are the packaging options?
We offer a choice of packaging and delivery methods.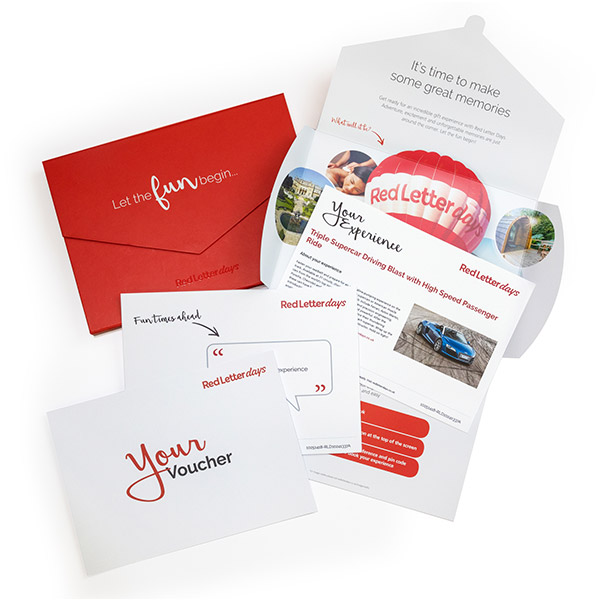 Gift Pack (£3.50)
Personalised gift pack sent in our signature red box, in plain outer packaging.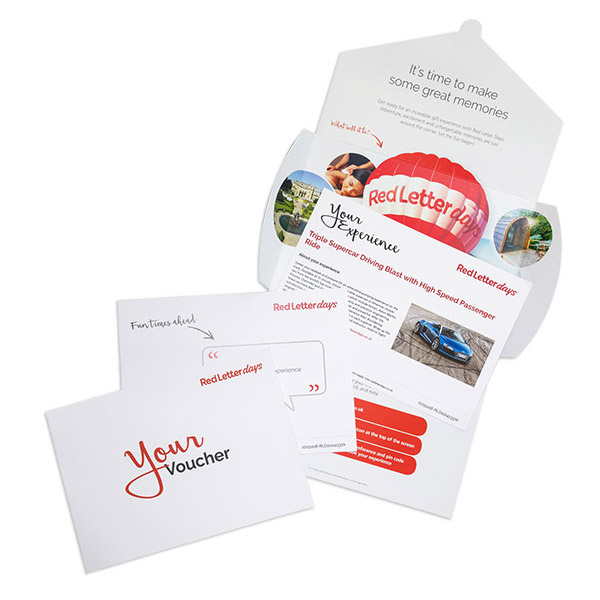 Envelope (free)
Personalised gift pack sent in a red envelope, in plain outer packaging.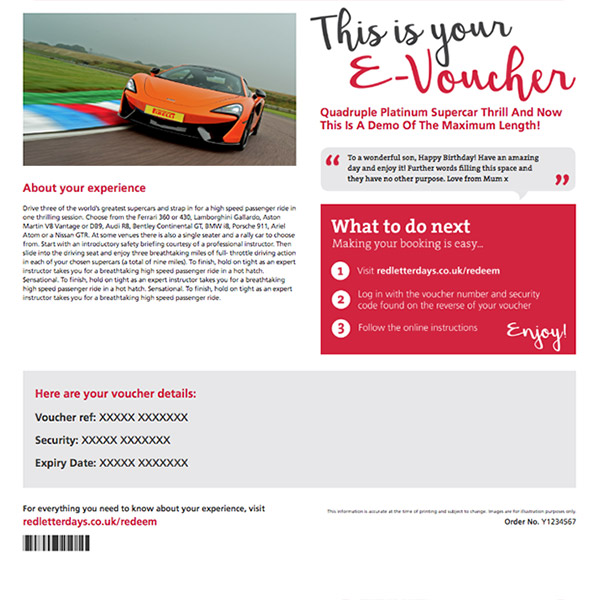 Evoucher (free)
Personalised electronic voucher sent to the email address of your choice, instantly.
What are your delivery options?
We have a range of delivery options available -
Standard Delivery (£1.99) Gift can be sent to an address of your choice and will arrive within 3-5 working days.
Next Day Delivery (£7.50) Orders placed before 4pm will be delivered the following day (excluding Sundays and Bank Holidays). Orders placed after 4pm on Friday will be delivered on Tuesday.
Will the price be visible on the voucher?
No. We do not include pricing information on our vouchers or within the packaging and the recipient is not made aware of the cost of the voucher; this is only visible via the order confirmation to the purchaser.
Can I add a personal message to my order?
Yes, personal messages can be added to all postal and E vouchers at the time of purchase.
---
Received an experience
How do I book my Voucher?
To book your voucher you will need to visit www.redeem.redletterdays.co.uk where you can log in using your voucher reference number and pin code.
You will then be able to view all included locations and suppliers included as part of your experience voucher. To make a booking you simply contact your chosen supplier directly using the details provided.
Please be aware that once your experience has been booked you will be bound by the suppliers Terms and Conditions, we advise not making any additional travel arrangements until your booking has been confirmed with the suppliers.
Do I need to take my experience before the expiry date?
Yes, we do advise all customers to book and take their experience before the expiry date included on the voucher. Please be aware that the supplier is not obligated to accept any bookings after this date. If you are unable to use your voucher before it expires, you can extend it here.
Can I extend my voucher?
With the uncertainty around COVID-19, if your voucher expires within the next two months, we will extend your voucher for free.
Simply visit https://extension.redletterdays.co.uk/ and enter your voucher reference and security number.
If the experience has increased in price since your voucher was purchased, you will need to pay the difference between the value of your voucher and the current price of the experience. The new expiry date and anything to pay will be clearly shown before you make any payment.
Your voucher may be non-extendable if it was purchased as one of our fantastic special offers or if we no longer offer the same experience. If your voucher cannot be extended you have the option to exchange it for another experience and can pay to extend the date on your new choice.
How do I check availability?
Available dates are checked with the suppliers directly. You can get their details by logging into www.redeem.redletterdays.co.uk using your voucher reference number and pin code.
Once you have checked availability you are welcome to make your booking.
Can I book a different experience to the one I've been given?
The great thing about Red Letter Day vouchers is that if you don't fancy the experience you have a voucher for, you can exchange to your choice of thousands of other experiences. So if a bungee jump isn't your cup of tea why not swap to a spa day, afternoon tea or day out with the family!
Simply login with your voucher reference number and pin code at www.redeem.redletterdays.co.uk and click on 'Exchange my voucher'.
To upgrade to a more expensive experience or book additional participants so you can bring others along to take part with you on the day, do this during the booking process and pay the difference.
You'll be shown the wide range of experiences that you can switch to, along with the difference in price between your original voucher and new one.
Where you see "Add" the new experience is more expensive than your original voucher, so you would need to pay this amount to exchange to the new experience.
Where you see "Bank" the new experience is less expensive than your original voucher, so if you exchange to this experience you would receive a credit voucher of this value to use towards another experience in future (the expiry date will be clear on your credit voucher).
You can choose from our wide range of experience vouchers however there are some gifts on the website that you can't exchange to and these include;
• Print and Go vouchers such as Theme Park tickets
• Selected limited special offer experiences
New vouchers will have the same expiry date as your original voucher. If you want longer to use your new voucher you can extend and exchange at the same time. Simply tick the 'extend my voucher' box and for a £20 fee your new voucher will come with ten months' validity starting from the date that you make the transaction.
Please make sure you exchange your voucher before the expiry date printed on your voucher.
Can I exchange more than one voucher?
Yes! To combine the value of more than one voucher please visit www.redeem.redletterdays.co.uk and log in using your voucher reference number and pin code.
Once logged in, click on the 'Exchange now' button - towards the top of the screen, you will then find the option to add more vouchers. Enter the voucher reference number and pin code of any additional vouchers here and the value of them all combined will be available for you to use towards the cost of another experience(s).
I've lost my voucher, can I get a replacement?
Yes! To arrange a replacement of the voucher please contact a member of the Customer Services team by emailing customeraction@redletterdays.co.uk or by calling 0345 640 8000.
I've already booked a date for my experience, is it possible to cancel or re-schedule?
Once you have confirmed your booking date with a supplier you are bound by their terms and conditions regarding cancellations or changes. It is not possible to change the booking unless they agree. Check your Booking Information Letter for contact details.
Sometimes a supplier may need to cancel the experience at short notice for reasons beyond their control (such as adverse weather conditions, illness or mechanical breakdowns). Therefore, we strongly recommend that you contact them the day before you depart for your experience. We regret that in the event of cancellation, Red Letter Days is unable to reimburse travel, accommodation or any other expenses you may incur.
My experience is weather dependent, is it still going ahead?
Some Red Letter Days experiences are weather dependent. If you have concerns about whether a booked experience is going ahead, we always recommend that you contact the supplier the day before, to check.
I don't want my Red Letter Days experience. Can I get a refund?
We're happy to refund unused vouchers bought direct from Red Letter Days within 14 days of delivery from the date of purchase. Once dates have already been confirmed as booked by a supplier, refunds within 14 days are subject to their cancellation policy. Refunds are always made to the person who purchased the voucher, and if originally purchased by credit or debit card, the refund is credited to the same card.
Refunds for valid unused Red Letter Days Experience vouchers purchased from other retail outlets should be taken up with the retailer, subject to the retailer's own return policies plus any specific terms and conditions detailed on the gift pack or packaging itself. Till receipts must be retained as proof of purchase.