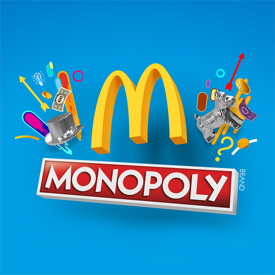 MONOPOLY at McDonald's
Thanks for playing!
The promotion has now ended, see you again soon. In the meantime, feel free to browse our website.
Please note: Offer is £10 off a Red Letter Days experience. Code can only be used once per purchase. Offer is only available until 31st August 2019. Offer applies to UK residents only. If the full discount is not used, then the difference will lapse. Age, height, weight, health and other restrictions may apply depending on the type of experience selected. The full terms for each voucher are to be found in the MONOPOLY at McDonald's 2019 Rules and include Red Letter Days' terms and conditions which can be found here. Voucher may not be used for selected experiences which are generally restricted for use with any promotional vouchers.
© 2019 McDonald's. MONOPOLY TM & © 1935, 2019 Hasbro. All Rights Reserved.